This three storey facility comprised a variety of training spaces, such as large, combinable training rooms separated by operable walls, smaller class-style training rooms, various meeting rooms, offices, and break out areas. This project included a commercial kitchen, cafeteria, a very large training workshop and a 76 seat auditorium.  Carleton Constructions carried out this project for SolutionsWon Group.
The Auditorium.
The lighting, data projector and sound are all controlled from a touch panel on the mobile lectern.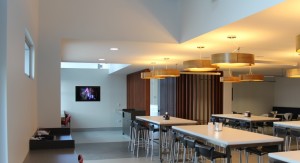 The Cafeteria.
The full commercial kitchen serves the 100 seat Cafeteria and provides a full catering service for training sessions throughout the facility.


Remote Monitoring Centre.
This room is used to provide remote access to equipment for real-time training and servicing.
The project scope included providing and commissioning network and audio visual equipment throughout. The facility was completed on time in early November 2012 and was opened by the former Prime Minister, Ms Julia Gillard.