We had previously converted part of the Ruah Centre in Northbridge from offices to open plan workstations and were asked to de-commission the commercial kitchen and turn it into an area where they could prepare the breakfasts and light meals for their clients.  They required much more storage in the kitchen but still needed the commercial dishwasher and cleaning facilities.
The combi oven, grill and deep fryer in this were removed, along with the bain marie at the back.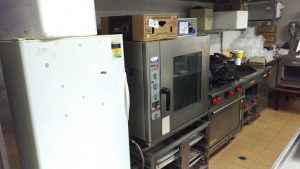 The centre bench in the picture below had 3 under bench fridges that were not working and a large sink on the end that wasn't needed, but provided a lot of useful bench space. We designed a large drawer unit to go underneath it and had a stainless steel fabricator make up a new end with waste bin holes to replace the sink. Power points were provided at the back to enable mixers and other equipment to be used on the bench.
New open shelving was installed later, to the right of the bench, against the wall where the oven and grill were. New cupboards were installed in the alcove left after the removal of the bain marie. The kitchen is now far more usable and suitable for their needs.