We were approached by Jeremy Gray, the Managing Director of CMS Electracom to provide some ideas and a budget to design and fit-out the office area of the warehouse unit they had recently occupied in Malaga. The existing office area was open and very basic, with exposed brickwork and display shelves, green waterproof boat carpet and had two sets of double doors opening out to the warehouse. He wanted to provide an office for the state sales manager, an area to display their products and much nicer access between the office and workshop, as most of their clientele would be entering through the workshop, to collect goods. The aim was to produce a simple but professional aesthetic in line with business concept and products.
He also asked us to improve the state of the warehouse outside the office, as the previous owner had partially constructed some framed rooms on the slab over the office and installed a rough set of stairs for access. The kitchenette was also identified as needing some attention to bring it up to a reasonable standard.
We gave Jeremy some ideas on what we could provide, and a budget for the work and he gave us approval to proceed.
We asked Juo Design to document the fit-out and we produced this result: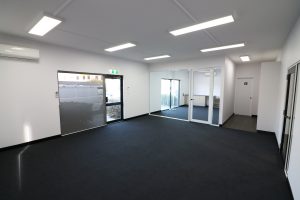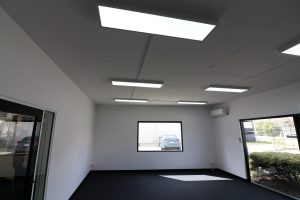 The improvement to the warehouse was as remarkable, when you compare these pictures to the ones above.