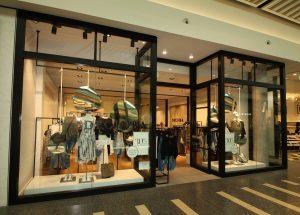 In November 2016 we carried out the fit-out of Decjuba's new Joondalup store. This was a very quick fit-out that started on Thursday 3rd and was opened for trading on Friday 11th. The procurement of the joinery and fittings had been done by the client and we needed to get the building permit in place so that Centre Management at Lakeside Joondalup could let us commence.  The permit was approved quickly when it was submitted to the City of Joondalup and Centre Management could not have been more helpful in getting us on site and underway.
The work commenced with the demolition of the existing store room, with new walls put up and some ceiling repairs, followed by painting. The existing glazed shop front was partially re-glazed and the framing completely painted.  New lights were installed, with new power and data cabling run to the storeroom and the counter. One feature wall was coated by Rendaroc and new tiling was laid in the entry.
The display racks, storeroom shelving, counter and furniture were all installed and the sprinklers were re-arranged to suit the new layout. The job ran well, driven by Glenn from Albec, with little conflict from everyone needing to be in the same place at the same time without tripping over each other. The stock was being brought in as the floor was swept on Thursday and Decjuba were trading on the Friday morning.